« Back to overview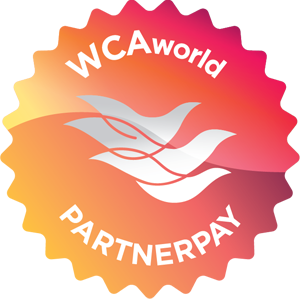 WCAworld PartnerPay can save each member thousands of dollars in banking fees.
WCAworld PartnerPay is an exclusive & free benefit for members of Lognet Global & WCAworld networks.
WCAworld PartnerPay is a proven safe and secure transaction system.
The majority of members now use WCAworld PartnerPay
Every transaction is instant and free of fees.
All WCAworld PartnerPay enrolled members carry the distinctive 'PP' logo.
WCAworld PartnerPay is the industry's only fees-free financial transaction system, and its use allows you to save virtually all banking fees on inter-member transactions.
Developed exclusively for members of Lognet & WCAworld networks, WCAworld PartnerPay is an online system that allows members to instantly pay and receive money from their partners anywhere in the world at no cost.
Completely safe and secure, WCAworld PartnerPay's unique online software allows members to manage and maintain their account payables and receivables simply and effectively, alleviating crippling bank transfer fees and boosting profit margins on every shipment.
WCAworld PartnerPay is an entirely free membership benefit available to every registered company. Quick and easy to set up and fully transparent, WCAworld PartnerPay has become the payment method of choice for most members, and their cost savings are staggering.
WCAworld PartnerPay is maintained and run by dedicated staff that offers complete support services and can deal instantly with any request or query. For more information on how WCAworld PartnerPay can prevent your company from throwing away money on banking fees, don't hesitate to contact our team: info@lognetglobal.com.