« Back to overview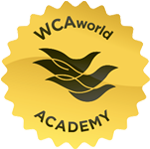 The WCAworld Academy is an exciting, new benefit which is open to all members of WCAworld. WCAworld Academy offers both online and classroom-based training in various topics.
These subjects range from general freight training and problem solving to specialist courses in pharmaceuticals, perishables and obtaining compliance. WCAworld Academy also features concise online demonstrations of WCAworld services, so information can always be accessed online.

Current trends and case studies are utilized to assist and enhance your business. By working with specialists in each area, WCAworld Academy provides members with the training and education necessary to achieve and maintain the highest industry standard.

Open forums are also used to promote discussions between members and to exchange idea. Being the first network to offer and Academy will help our members stay ahead of the competition.
For more information, please contact: Manager - WCAworld Academy, Leah McKenna at
leah@wcaworld.com