« Back to overview
WCAworld Quotation System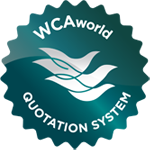 WCAworld Quotation System is a FREE member-only platform that allows you to send and receive RFQs with fellow members worldwide.
The most important factor of quality RFQ is to be as specific as possible. Detailed RFQs allow partners to prepare accurate quotes that minimize the potential for cost overruns on any services that don't meet your requirements. The WCAworld Quotation System will ensure all parties know exactly what each other wants and be able to offer a reasonable price quote. The system also allows you to evaluate different partners' value because sourcing is not just about the price.
WCAworld Quotation System is very easy to use, helps you get an accurate quote faster, cuts down on the back-and-forth emails, skips the member verification process, and avoids the payment term problems. With over 850 RFQs generated in the first month of launching, it's proven that the system helps members secure new businesses around the globe with new partners they perhaps may not have considered in the past.